VVV Cadeaukaart besteden?
Met onze cadeauzoeker vind je snel iets leuks! Zoek maar eens op product, categorie of merk en je ziet het productaanbod van honderden aangesloten webshops. Zo hoef je niet meer elke website die de VVV cadeaukaart accepteert, afzonderlijk te bezoeken om te kijken of er iets leuks tussen zit.

Je VVV cadeaukaart bij Bol.com inwisselen is ook mogelijk, klik daarvoor op de link om te zien hoe dat in zijn werk gaat.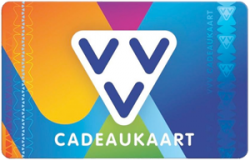 Populaire webshops die de VVV cadeaukaart accepteren
VVV Cadeaukaart online besteden
Wil je jouw cadeaukaart het liefst online besteden en wil je gewoon een lijstje zien met aangesloten webshops? Kijk dan op de pagina VVV cadeaukaart besteden